Grills, Charcoal Smokers, Natural Gas Grills, Stainless Steel Gas Grills, Patio Grills, LP Gas Grills, Propane Gas Grills, BBQ Grills, Barbeque Grills, Outdoor Cooking Grills, Pig Cookers, and more.
Welcome to Rivers Edge Grills, distributor of the all-handmade Gas or Charcoal Barbeque Grills.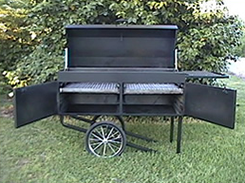 We are located in Eastern North Carolina, in Bath, North Carolina. Our grills represent maximum value without spending a fortune. Our grills perform without constant attention and maintenance and compliment any setting.
Grills for homeowners
Grills for tailgaters
Grills for restaurants
Grills for country clubs and civic groups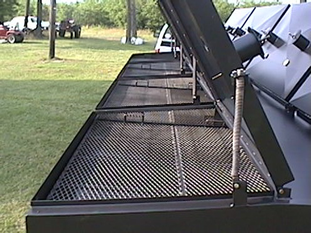 Grills for fire stations and churches
Grills for caterers and concessionaires
Rivers Edge Grills are available in four different models based on actual grilling surface; LP Gas and Charcoal. All LP Barbeque grills feature a stainless steel burner with a lifetime warranty and all of our grill models have expanded stainless steel grates.
20" X 24"
2' X 3'
2' X 4'
3' X 41/2' Pull Behind Pig Cooker
3' X 41/2' Pull Behind Pig Cooker with Offset Firebox
3' X 4 1/2' Lawn Pig Cooker